This year, we had the best Thanksgiving meal yet! My hubby's dad and step-mom were here for a visit so I decided to do almost everything from scratch! I'm beginning to get a *little* more confident in my cooking, so why not do a huge meal from scratch with all completely new recipes... right??! Luckily, I had help from hubby's step-mom and a whole day of prep while the guys were hunting.
The recipe I am most excited about is the green bean casserole. I have obviously had the casserole in the past, but it has never been my favorite. I don't love canned green beans, and it seemed to always be more of a mushy mess by the time it was done. This recipe (from Pinterest) calls for NO cans whatsoever, and even includes home-made fried onion topping!! There are many steps, and it takes a bit of prep... but I will never go back to the canned casserole. The flavors of this recipe are so rich and fresh!
The original recipe comes from Creative Culinary
(
http://www.creative-culinary.com/homemade-green-bean-and-mushroom-casserole-with-fried-onion-strings/
), but I have re-posted it here for you with my own pictures. Give it a try and you won't regret it!!
Homemade Green Bean and Mushroom Casserole with Fried Onion Strings
For the Onion Strings:
1 whole Large Onion
2 cups Buttermilk
2 cups All-purpose Flour
1 Tablespoon (scant) Salt
¼ teaspoons (to 1/2 Teaspoon) Cayenne Pepper
1 quart (to 2 Quarts) Peanut or Canola Oil
Black Pepper To Taste

For the Green Beans:

2 pounds green beans, ends removed and beans snapped in half
6 tablespoons unsalted butter, divided
1 pound button mushrooms, cleaned and diced
1 & 1/2 cup sliced shallots
4 cloves garlic, peeled and minced
1/2 cup dry white wine
1 cup whole milk
1 cup heavy cream
1 cup chicken stock
1/4 cup plus 2 tablespoons all-purpose flour
1 teaspoon Worcestershire sauce
1 teaspoon ground mustard powder
Kosher salt and pepper, to taste
1 cup freshly grated sharp cheddar
To make the Onions:
Slice onion in half; place the flat half down on your cutting board and slice each half into thin rounds.
Place in a baking dish and cover with buttermilk and soak for at least an hour.
Combine dry ingredients and set aside.
Heat oil in small fryer or large dutch oven to 375 degrees.
Grab a handful of onions, throw into the flour mixture, tap to shake off excess, and PLUNGE into hot oil. Fry for a few minutes and remove as soon as golden brown.
Repeat until onions are gone.

Ree advises to eat them before your family sees them and then repeat the whole process with another onion, because they'll be really mad they didn't get any. She is so right...it was hard to not just 'snack' them gone before we even made the casserole!

Preheat oven to 350°F. Bring a large pot of salted water to a boil. Add beans and cook until deep green and tender, about 10 minutes (we like ours a bit crisp tender; cook longer if you prefer softer beans. (The beans do not continue to cook more in the casserole.) Drain and rinse with cool water.
In a large Dutch oven or heavy pot, melt 2 tablespoons of butter on medium-high heat. Add the mushrooms and sauté until they start sweating liquid, about 4 minutes. Add the onion, garlic, and a pinch of salt. Continue cooking, stirring often, until softened, about 6 minutes. Add the wine and simmer until it evaporates, about 3 minutes. Remove the mushroom mixture to a separate bowl.
Combine the milk, cream, and chicken stock in a large glass bowl and microwave until hot, about 2-3 minutes (or bring to a simmer in a saucepan).
Melt the remaining 4 tablespoons butter in the Dutch oven over medium-low heat. Add the flour and whisk until creamy; about 2 minutes.
Add the hot milk mixture and continue cooking, whisking frequently, until thickened, about 15 minutes. Whisk in Worcestershire sauce, mustard powder, and a generous amount of salt and pepper.
Stir the mushroom mixture into the cream sauce and simmer, whisking frequently, for about 5 minutes for the flavors to marry. Taste and adjust the salt and pepper. (You want this to be on the salty side, because it will mellow once you add the green beans.)
Stir the green beans into the mushroom sauce and toss to combine. Pour the green bean mixture into a large, buttered casserole dish (about 2 quarts).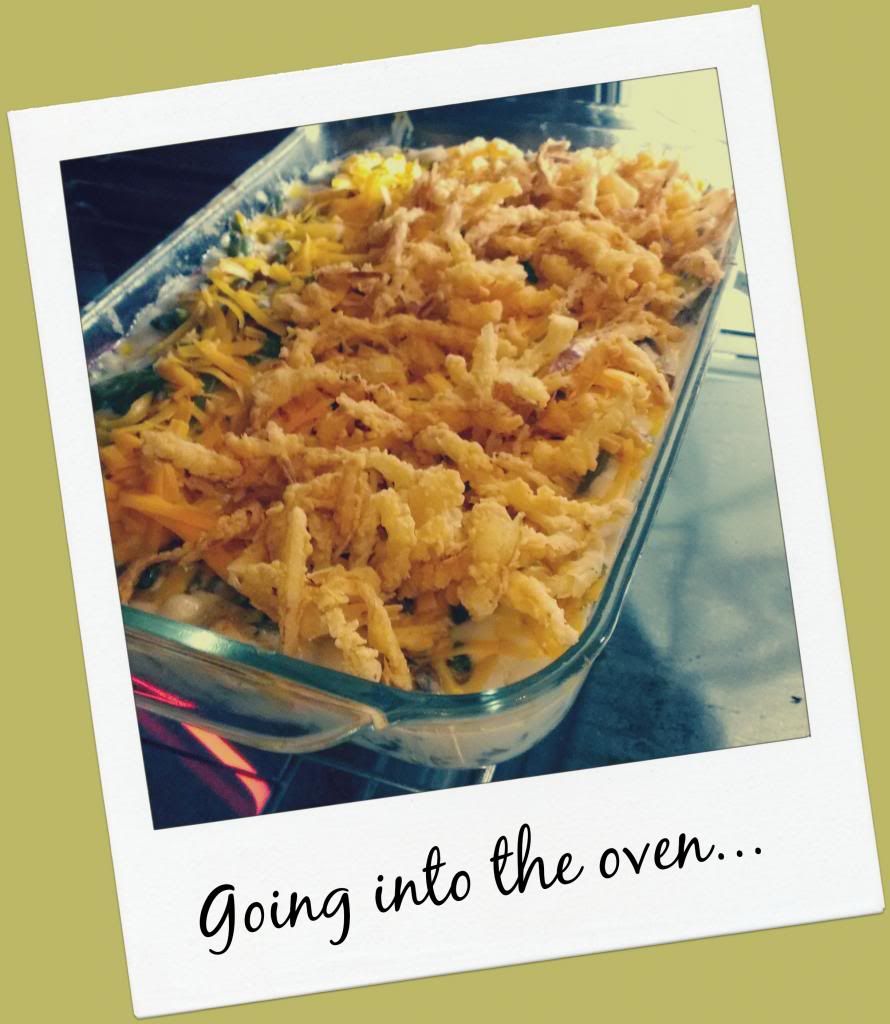 z
14. Bake uncovered for 15 minutes. Add the grated cheddar and crispy onion strings and
bake uncovered until cheese is melted, about 15 more minutes. Let stand for 10
minutes before serving.
15. Dig in!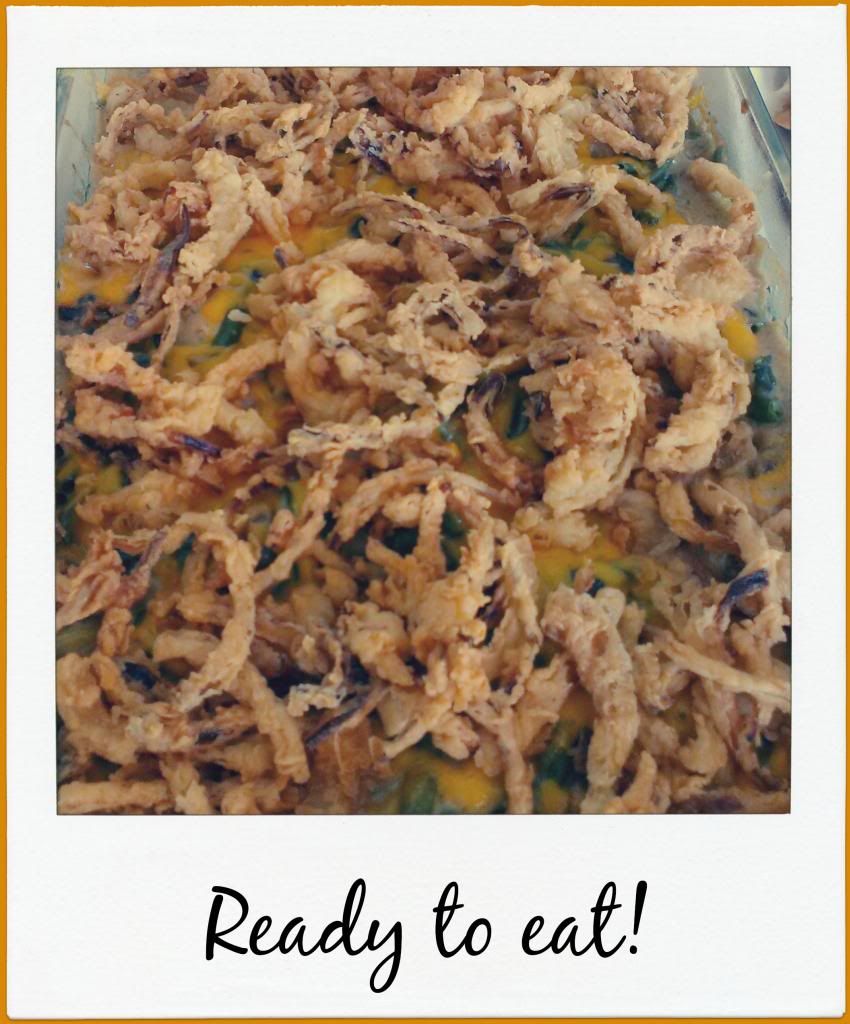 Notes
We made this for Thanksgiving and it makes a lot; I would cut this in half if serving for a regular meal. Except the onion strings; make them all. You won't regret it.